3670 Banff Court #107, North Vancouver, BC V7H 2Y7
Tel: 514 293 0501/604 770 1557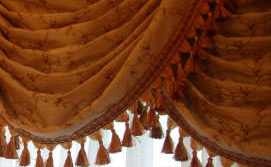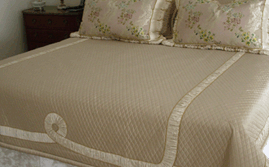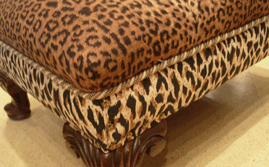 Now featured in Architectural Digest - Page 90. Mouse over to view.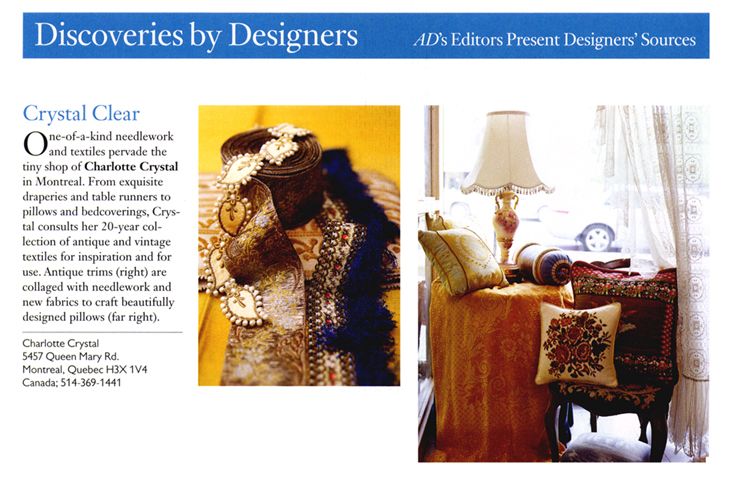 It's called Design Panache. A certain something - a je ne sais quoi. A color, a style, a texture. It's almost impossible to describe but easy to recognize. Charlotte Crystal's clients, who include Celine Dion and Margaret Atwood among the better known, all recognize it. When you have one of Charlotte Crystal's creations your life will never, ever, be quite the same again.
"This creative woman collects beautiful one of a kind needleworks, antique textiles, tapestries and lace and turns them into the most exquisite cushions, chair seat covers, table runners, duvet covers and footstools. What to do with your wedding gown? Why not turn it into beautiful cushions to gaze upon and always remember your special day."
Sandra Phillips, Smart Shopping Montreal

Copyright © 2006 - 2023. Charlotte Crystal Interior Design. All rights reserved. Design by Julia Waks